A New (remodeled) Bathroom Adds Value To Your Home
A renovated or new bathroom adds value to your home, updates its style, and adapts it to your needs in modern times. Whether creating a new bathroom space or updating an existing one, Terra Renovations has the experience and expertise. Our design team will guide you through the process of essential changes to improve the functionality, storage and comfort of your new or existing bathroom space. Our Design Team Will Help You Design Your New Modern Bathroom
New Windows Arrange For A Free Estimate For Your New Bathroom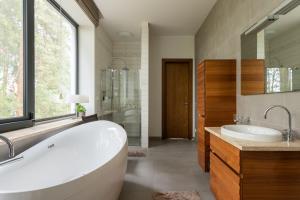 Increase your home's value. According to HGTV.com, a minor bathroom remodel gives you a 102% return at resale.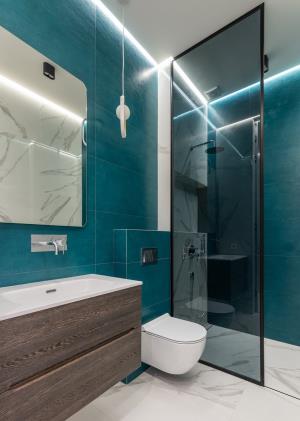 Modern plumbing and energy efficient lighting are visually appealing and safe money. Large tiles add colour to your new bathroom and value is another added benefit.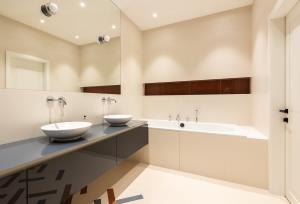 The slick clean look of this new bathroom with "his" and "hers" sinks provide a new level of comfort
There are a cornucopia of benefits to new bathroom or remodeled bathroom. Bathrooms are one of the most used rooms in the home and deserve special treatment and consideration. So, if you're interested in a bathroom remodeling or new kitchen, the bathroom specialists at Terra Renovations have completed dozens upon dozens of projects in Toronto and The GTA. We're here to help you understand how much your investment will pay off in both the short and long term.
Benefits Of A New Or Remodeled Bathroom
Improve Your Own Enjoyment and Relaxation with a New Bathroom or Renovation
Improve the Aesthetics of the Bathroom and the Home
Add Space to Your Bathroom with a new design
Save energy and water costs with new bathroom modern fixtures
Your Bathroom will be easier to maintain and will be cleaner
A New Bathroom will add Value to Your Home
A properly planned Bathroom addition will allow for family growth
Contact Us To Arrange A Free Quote Or Ask A Question
Terra Home Renovations Ltd. Your Partner From Project Start To Completion
Terra Home Renovations, is a full-service design/build residential remodeling firm in Greater Toronto Area (aka The GTA). The company's philosophy is based on our four pillars of Professionalism, Accountability, Creativity and Value. Keeping these principles at the center of everything we do allows us to deliver the very best experience possible for our customers.

From the first time we sit down with you to discuss your ideas, all the way through to the final sign-off at project completion, you will feel like you are part of the process. This is your home and your investment. Our role is simply to turn your dreams into reality. We will solicit all of your ideas while we are building the project plan, and you will be continually updated throughout the life of the project on how the work is progressing.